Document Storage Services in Wisconsin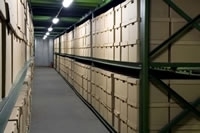 If you have documents that you need to hold onto long-term or something that you don't use regularly, offsite storage might make a lot of sense for your business. Storing documents offsite is a great way to free up space in your office.
Madison Scanning Service provides records storage and retrieval services anywhere in the state. Let us help you maximize the efficiency of your document retention plan and reduce the number of inactive files that clog up the filing space in your office.
You can access any of your stored files at any time- and if you need a file immediately, we offer emergency retrieval services to make life easier.
Considerations to Keep in Mind When You Need Records Storage Services in Madison
Access Control: Security and access control is crucial for any business. Documents that contain personal or confidential information need to be secured. Document storage facilities only allow individuals with proper authorization to access and retrieve stored files, making it ideal for securing confidential files, personnel records, and important files related to your business.
Optimize Efficiency & Cost Savings in Madison: Offsite document storage frees up valuable office space and enhances the productivity of the employees who maintain your documents.
Climate-Controlled Records Storage: A properly controlled environment is critical for any kind of data storage, from hard-copy files to x-rays and magnetic backup tapes. Temperature and humidity-controlled storage ensure that the temperature and humidity in your storage area are maintained and consistent- even during a power outage.
Legal Compliance in Wisconsin: Some businesses keep large amounts of records in error, while others neglect to keep necessary documents and discard critical information that should be retained. Document retention policies, along with document storage programs, can determine which files to keep onsite, and which files you can store offsite and retrieve when necessary.
Get Free, No-Hassle Quotes on Document Storage Services in Madison Today
Madison Scanning Service provides secure document storage and retrieval services for businesses in Wisconsin. To get free, no obligation quotes on long-term document storage, give us a call at (608) 807-2849 or fill out the form to the left.